You bought a one-of-a-kind top from Zara as the perfect gift for her birthday, but she says that Julie from work has a variation of that same top. Being a woman, I understand your plight. And the best way to prevent your girl from dismissing your expensive unique gifts is to buy something that is unique, personalized, and truly one-of-a-kind.
A hand-painted silk scarf beats almost everything when it comes to unique gifts for your girlfriend. Other than the fact that it is coming directly from you, a hand-dyed silk scarf shows that you put in extra efforts to pamper her on her special day. Anyone can buy a luxury gift for her in 2017 when there is no shortage of options. But what matters is how thoughtful and personalized the gift is.
Top Reasons to Gift a Hand-Painted Silk Scarf
So, here are the top reasons why wearable art clothing like a designer silk scarf is the unique gift for her. Whether you are buying for your loved one or are treating yourself, here's why getting something different makes sense.
It's Intended for Her
A custom-made silk scarf means the gift was bought keeping her and only her in mind. Unlike a designer top or an expensive gadget, it shows thoughtfulness on your part.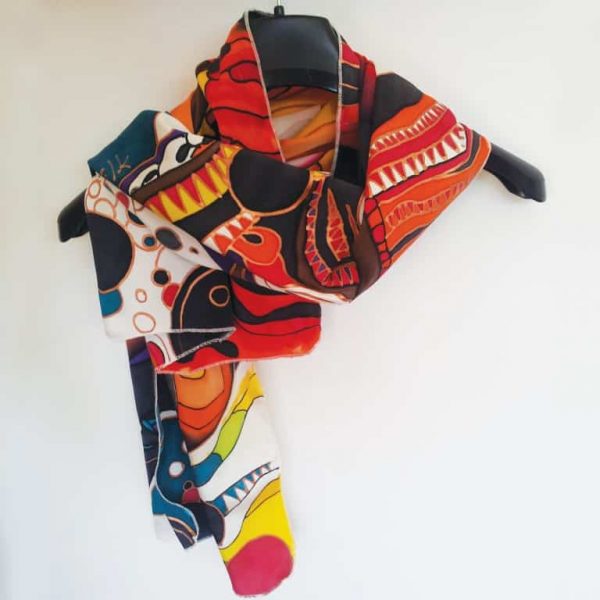 Personalized Gift for Her
When you order a hand-painted silk scarf from me, you can choose the design, the colors, and the overall theme. Is red your girlfriend's favorite color? You should get her a red silk scarf with some cool graphics.
It's Truly One of a Kind
When you buy a customized silk scarf, you can be 100% sure that there's no second copy of it. Since it's not mass-produced, your partner is never going to find someone else wearing the same scarf. Only she will wear it. This is arguably the best thing as far as gifts are concerned. (And trust me, I know how it feels.)
Perfect Gift for the Woman Who Wants Nothing
Have you ever wondered what to give to a person who wants nothing or who has everything in life? It can be a challenge to find a suitable and unique gift for such a person. A silk scarf with surreal designs is what you should look for.
More Value
It is always better to attach your emotions to your gifts because that way they stay for eternity. You cannot show your love and care for someone through an iPhone X. But you can surely do it through a hand-painted silk scarf.
So, what are you waiting for? Don't lose time as her birthday approaches; order a beautiful and personalized silk scarf for her today. I know how difficult it can be to buy the perfect gift for her. At ARTbubbleSilk, we have you covered.